BY WILLA WU, CHINA DAILY
The story behind the Oishi Shanghaojia brand, one of the most respected and recognized in China, is a remarkable tale of how the reform and opening-up policy drew foreign investment to the country.
Oishi Shanghaojia is an offshoot of the Oishi brand in the Philippines, which is owned by the Liwayway Group. It was brought to China by Carlos Chan, a Chinese Filipino who is ranked No 21 on Forbes' List of the Philippines' 50 Richest.
In 1993, Chan established his first overseas production center in Pudong, Shanghai, in cooperation with two State-owned companies. Chan named his new venture Oishi (after the parent brand) and Shanghaojia, which means "excellent, top grade and high quality" in Mandarin.
Initially, though, the auspicious name didn't bring Chan much luck; he waited almost six months for the plant's business license to be approved, and no sooner had the facility opened than his fledgling enterprise looked as though it was headed for disaster.
The trouble started when Chan received a call from the manager of the plant in Shanghai.
"I am afraid we have to leave the China market," Chan recalls his plant manager telling him. "The employees here won't cooperate with us."
Unfazed, Chan replied, "I will come and talk with them."
He had already learned two valuable lessons from working with his father in the family business: "be patient" and "make friends before doing business".
Chan vividly remembers the tense atmosphere as he walked into his first meeting with the plant's Chinese workers: "They were all standing, red-faced. I wasn't allowed to sit down, either."
He stood for almost an hour, listening to the complaints of the employees, who had been hired from two State-owned enterprises that had leased the factory to Chan.
"They were dissatisfied with the management. We were foreign employers. They thought we were capitalists who intended to exploit them. It was an ideological issue," Chan said.
He describes himself as "a shy man", something he had to overcome to follow his father's advice to be patient: "To me, that means having an attentive ear and talking to people regardless of their background."
Having listened to the workers' complaints, Chan replied in full. Tensions eased and he was finally invited to sit down. The Chinese Filipino employer and his Chinese staff members started calmly discussing how to build mutual trust.
Chan ordered that all salaries should be increased, because the employees were only earning 200 yuan a month. He also installed heaters in the staff canteen. "We needed to let them know we cared about them and would not treat them like mere laborers," he said.
That communicative management style has become a hallmark of the company.
Desmond Cheng, who is based in Manila but oversees all of Liwayway's plants, said: "We've maintained good relationships, from top management down to frontline workers. Every decision is made after we put everything on the table for discussion."
Chan's style won him loyalty from both staff members and business partners. For example, Cheng joined the company in 1996 and has worked for it ever since. In his opinion, Chan is a "good, down-to-earth boss" who is always ready to talk with employees and willing to provide assistance whenever it is needed.
According to Cheng, many of Liwayway's employees in Manila have worked for the company for more than 20 years. "They view the company as their family, and are willing to spend their entire careers with us," he said.
In 1994, the company's Shanghai plant produced its first batch of prawn crackers. Chan remembers the trucks waiting outside the plant to deliver the crackers to distributors across the country.
"We faced little competition in China. We managed to cover the initial costs in the third year after we entered the Chinese market. Demand exceeded supply," he noted.
Liwayway's dealers in China are also loyal to the company, and many of its wholesale distributors have maintained partnerships since the group entered the domestic market.
The reform and opening-up policy was the catalyst that helped to create one of the largest and most trusted businesses in the country.
"I often tell my dealers that without Deng Xiaoping, Oishi would not have what it has today," Chan said.
Deng, the architect of modern China, put forward the reform and opening-up policy in 1978, allowing the once-reserved country to open its doors to foreign investment. Since its inception, the policy has lifted around 700 million people out of poverty and has been the driving force behind the nation's economic miracle.
Just eight years after Oishi Shanghaojia was almost forced to close, it became the first non-Chinese concern to earn the "Shanghai Famous Brand" Award. The honor is only given to brands that are ranked among the top five in their individual industries and have earned broad consumer trust. In 2006, Oishi Shanghaojia won the additional honor of being recognized as a "China Famous Brand".
Today, Liwayway's snacks can be found across China, from small convenience stores to large supermarkets. Now approaching its 26th year in China, the company has plants in 15 cities in the Chinese mainland and its products are carried nationwide by more than 700 wholesale distributors.
Data provided by Liwayway show that Oishi Shanghaojia holds a 26 percent share of the country's snack foods market.
Humble beginnings
The company's story began in 1946, when Chan was age 5. His parents, immigrants from South China's Fujian province, founded Liwayway Marketing Corp in Manila, capital of the Philippines.
The company started by repackaging products such as coffee and cornstarch. Then it began producing goods for the local snack market. In the 1970s, it graduated to producing Oishi Prawn Crackers, making the company a market leader in the local industry.
The Chan family maintained its Chinese roots, and Carlos was raised in a traditional setting that was heavily immersed in Confucianism. The idea of contributing to the land of his ancestors was deeply planted.
Chan attended Chinese schools in the Philippines, so he is fluent in both spoken and written Chinese, and has even given himself a Chinese name, Shi Gongqi.
Initially, he dreamed of becoming a painter. He was majoring in architecture in college but as the eldest son, he dropped out to help with the family's growing business.
Chan got his first glimpse of Shanghai via the movies he watched as a child in which he saw the city as a lively, vibrant place that would be ideal for business.
He'd been considering entering the Chinese market since the mid-1980s. Ten years after Liwayway produced its first bag of Oishi prawn crackers it was facing increasing competition from local rivals and needed to address the problem.
However, Chan received little encouragement from people who knew the Chinese market, or thought they did.
"Many told me that it would be hard to profit from the Chinese market. People there were poor," Chan said. "'So you mean they don't even have 1 or 2 yuan?' I asked everyone who gave my go-to-China proposal the red light."
Reluctant to quit, Chan decided to see for himself. He was determined to crack the Chinese market, so he started making regular visits to Shanghai in the late '80s.
There were no direct flights from Manila to Shanghai, so he had to change planes in Hong Kong and he was often the only passenger in business class. His first real experience of Shanghai was a disappointment.
"It was underdeveloped. The roads were shabby and people all wore the same color – blue," he said. However, he hung on and learned about the local market and China's legal system.
Recalling his first days in Shanghai, Chan said one of his most memorable moments was the time he drove his Mercedes-Benz in the city shortly after opening his plant.
"There were few cars on the road at that time, let alone luxury cars. You could feel people's eyes all fixed on you. "Now, things are different. I see many other cars on the roads in Shanghai. The city has advanced a lot," he said.
Last year, Shanghai became the first city in China to generate GDP of 3 trillion yuan ($433 million), and is on its way to becoming one of the world's major financial centers by 2020.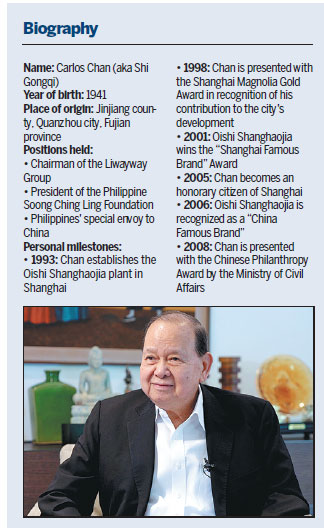 Following its success in China, Liwayway has expanded its snack business to other markets, including Myanmar, Thailand, Indonesia, Cambodia, India and South Africa.
"My roots are in China, but the Philippines is my home, too. It has accommodated my family and provided opportunities for us to thrive," he said.
His love for both countries prompted him to act as a bridge between China and the Philippines.
Three presidents of the Philippines, including incumbent Rodrigo Duterte, have named Chan to the post of special envoy to China.
Talking about that role, Chan said his main task is to bring the two countries closer together.
He has initiated numerous sisterhood pacts between provinces and cities in the countries, including Bohol in the Philippines and Jiangxi province in China, Cavite and Anhui province, and Palawan and the Ningxia Hui autonomous region.
After a deadly magnitude 8 earthquake struck Sichuan province in Southwest China in May 2008, Chan donated 13 million yuan to the area, including Oishi Shanghaojia products worth 1 million yuan.
He also aided the recovery of 100 high school students from the area by paying for them to visit the Philippines.
"Life is short. Live it not only for yourself, but also for society when you are able," he said.
The snack tycoon – now age 77 and with seven grandchildren – spends half the year in Manila and half in Shanghai.
He is still a man of few words, but he generates a lot of action and is ultra-energetic when it comes to expanding Liwayway's footprint because it means he can continue to make a major contribution to both his company and China.